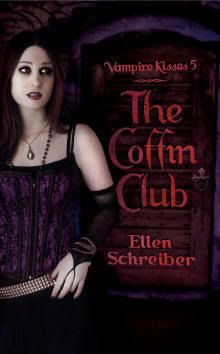 It's tough for love-struck Raven to imagine what's keeping her nocturnal boyfriend from returning to Dullsville. So there's only one thing to do—find Alexander. Along the way, Raven can't resist the spot where she feels most at home, the Coffin Club. But when she stumbles upon a secret door in the club, she descends into a dim catacomb—to a hidden hangout, where the house drink happens to be type A or B. Drawn to one of its shadowy members, Raven suspects she's in over her head. But exploring the covert club is too tempting, even after coming facte-to-face with Alexander's trouble-stirring enemy.

Can Raven delve further into the Underworld unbeknownst to Alexander—and also solve the mystery of her true love's own secrecy? Ellen Schreiber's sizzling Vampire Kisses series continue's with its darkest installment yet.

Yay! I am so excited that I finished this :3 I actually started this book in July, I think, but got distracted by the Breaking Dawn excitement, the book I had to read for English(Alas, Babylon), and writing my newest story. I must say that Raven had started to frustrate me a few times in this latest installment but, still, she's my favorite character(Alexander Sterling running second.) I absolutely adore this story of Ellen's and, no joke, you will be very surprised when you come to the ending.
5/5